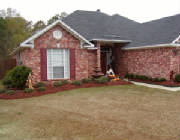 Ornamental beds with fresh straw
We are a full-service contractor providing quality service to residential, industrial, and commercial clients located in Ouachita Parish and surrounding areas in Northern Louisiana. From basic lawn maintenance to full service landscape management, our professional staff is dedicated to working with you to implement a solution that meets your needs.

We are fully licensed and insured.
Louisiana licenses:
Landscape Horticulturalist - LH-2861
Landscape Irrigation Contractor - IC-0244
Licensed Arborist - AR-1627
Certified Commercial Pesticide Applicator - Category 3 - #00098514
Ground Applicator Owner Operator - #00099049
Our services include:
Lawn Maintenance (Mowing, Edging, Weedeating & Blowing)
Pruning
Ornamental and Turf Pest/Weed Control
Aeration
Annual Color
Mulch/Pinestraw Installation
Fertilization
We provide FREE ESTIMATES...give us a call or fill out the form on the Request an Estimate page.
We also use Thumbtack for advertising our Landscaping and Lawncare services.
For the best choice for your lawn and landscape. Visit us on Thumbtack.